The All New Dodge Challenger
The Dodge Challenger continues to be a popular choice among performance-car enthusiasts for its strict adherence to gobs of engine power, among other specifications. Unsurprisingly, the 2021 model year doesn't welcome any significant changes. There are now seven trim levels available, which are the following:
1. SXT
2. GT
3. R/T
4. R/T Scat Pack
5. SRT Hellcat
6. SRT Hellcat Redeye
7. SRT Super Stock
Regardless of which 2021 Dodge Challenger model you choose, you're guaranteed a hefty engine. The Pentastar—a 3.6-liter V6 that serves 305 horsepower—has been used on Chrysler vehicles for years now, and it functions as the Challenger's base engine for remarkable acceleration, with an eight-speed automatic gearbox attached to it. For an upgrade, you can go up to at least the R/T, which replaces the Pentastar with a 375-horsepower 5.7-liter HEMI V8 that's attached to a six-speed manual gearbox for a more exciting driving experience. The R/T Scat Pack represents another jump: to a larger, 6.4-liter HEMI V8 with 110 more horses (i.e., 485 horsepower). At the top of the pyramid is the SRT, a supercharged 6.2-liter V8 that is, up to this point, the strongest engine the Challenger has ever received. It outputs 717 horsepower, 797 horsepower, and 807 horsepower on the aptly named SRT Hellcat, SRT Hellcat Redeye, and SRT Super Stock, respectively. Depending on which SRT model you choose, this V8 can get you from 0 to 60 mph within 4 seconds. Each engine is placed in the front, with power shifted to the rear wheels for exceptional balance and handling. Indeed, if you go with the R/T trim level or higher, rear-wheel drive is not only standard, but the only drivetrain available. Trims lower than the R/T, however, provide the option of all-wheel drive for maximum performance on slippery surfaces.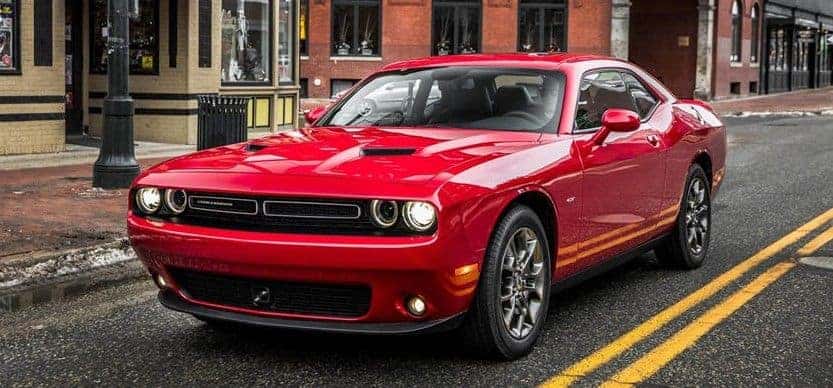 The 2021 Dodge Challenger has two rows of seats to accommodate up to five people, with cloth upholstery, driver-side six-way power and a leather-wrapped steering wheel as standard. There are two displays on the dashboard: one that's nicknamed "The Control Room" for displaying driver information such as vehicle stats and on-the-road alerts and the other for integration of infotainment features such as a six-speaker AM/FM stereo system, Bluetooth hands-free phone calling and audio streaming, two USB ports, and Android Auto and Apple CarPlay smartphone integration. Automatic climate controls face both the driver and front passenger, with the rearview mirror in the middle having auto-dimming technology to dim headlight glare. Remote keyless entry enables secure access by pressing the key fob button. Driver assistance is provided by a rearview camera. (Upgrade in trim for optional driver-assistance upgrades, which include adaptive cruise control, automatic high-beam headlights, blind spot monitoring with rear cross-traffic alert, forward collision warning, and rear parking sensors to enhance the rearview camera.) For restraint and cushioning, the Challenger provides six airbags.
Choosing any trim above the SXT provides upgrades such as the following:
• GT: Upgraded cloth seat trim; driver-seat eight-way power (instead of six-way); garage-door opener; steering wheel-mounted paddle shifters; rear parking sensors
• R/T: 375-horsepower 5.7-liter HEMI V8 with six-speed manual gearbox
• R/T SCAT PACK: 485-horsepower 6.4-liter HEMI V8; high-performance suspension; Brembo performance brakes; front-seat heating; steering-wheel heating, six-speaker Alpine premium stereo system; 8.4-inch touchscreen (in place of the 7-inch); trial subscription to SiriusXM Radio
• SRT HELLCAT: 717-horsepower 6.2-liter SRT V8; six-piston Brembo front brakes; heavy-duty differential; open air intake; competition three-mode adjustable Bilstein suspension
• SRT HELLCAT REDEYE: 797-horsepower 6.2-liter SRT V8
• SRT SUPER STOCK: 807-horsepower 6.2-liter SRT V8 (for a 0-to-60 mph time of 3.25 seconds)
To test-drive the Dodge Challenger, look no further than Greenway Dodge in the Orlando area. We are always dedicated to providing a robust inventory and outstanding customer service to residents in the Orlando area. Visit us at Greenway Dodge today to meet with one of our specialists, who will guide you in selecting the ideal financing option and Challenger model for you.