Benefits of Servicing your Vehicle at a Dealership
When a vehicle needs maintenance and repair, it's important to get the job done right by the best trained mechanics for a reasonable price. That's what an automobile dealership's service department like the one at Greenway Dodge offers customers.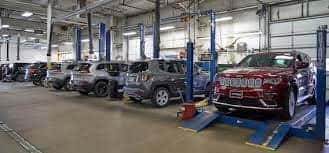 The biggest challenge vehicle owners face is trusting the right shop to handle service and repairs. The automobile service industry is huge in the U.S., projected to top $477 billion by 2024, according to the Automotive Aftermarket Industry Association. With literally millions of repair shops out there, it's hard to find one you can trust. Here's why you should trust a dealership that is familiar with your vehicle for maintenance and repair work.
Expertise
Dealerships offer expertise. That's the biggest reason you should rely on them. Their mechanics are trained by your vehicle's manufacturer and often work exclusively on those vehicles. The mechanics must maintain their training to ensure that they can handle any issues with your car or truck.
Warranty
While your vehicle is covered by a manufacturer's warranty or a dealership's maintenance plan, it's obvious that the dealership is where you should have your work performed. This helps ensure that all work performed is done in accordance with your vehicle's warranty. A dealer repairs problems for free if your car is still under warranty, receiving payment from the manufacturer. A service shop outside of the dealership may perform work that could violate your vehicle's warranty, so it's important to be careful when choosing the right shop. In addition, dealerships typically offer warranties of up to 12 months or 12,000 miles on service and parts, which can be used at any other dealership of the manufacturer in the country.
Convenience
Dealerships want to keep customers happy and often go above and beyond a basic garage with customer service. Most dealer service departments offer shuttles or loaner vehicles for customers to use while their service is being performed. Some dealerships also have relationships with rental car companies to provide customers with a loaner vehicle during the service work. The comfort and complimentary snacks and refreshments also are added benefits that a dealership offers customers who opt to wait for service to be completed.
Satisfaction
Dealership service departments are under a broad umbrella of manufacturer representatives who serve customers that car makers must keep happy. These dealerships are working on behalf of the manufacturers, and will be held accountable when things go wrong. It's an added level of assurance that a dealership will perform quality work and provide outstanding customer service. Manufacturers often contact customers after the service to ensure they are satisfied, and if they aren't to make sure the issues are resolved.
Recalls
Dealerships stay informed about the latest manufacturer recalls and technical service bulletins for your vehicle. If the work needs to be performed, they will include it at your next service visit, often for free. Independent service shops typically can't provide this service, or ensure that the work performed meets your vehicle's warranty and service standards.
Quality
Dealer service department ensure that only the best and proper parts are used on your vehicle. A smaller repair shop might opt for used parts or parts made by outfits that aren't related to your vehicle's manufacturer. In some cases, using such parts can wipe out your vehicle's warranty with the manufacturer. And remember, dealerships regularly offer the best warranties for the parts and labor they provide.
Facilities
Dealer service shops use the most modern and best equipment to repair your vehicle. Not only are their mechanics trained by the manufacturers, but they are provided the best tools and materials needed to work on your vehicle. This gives dealerships a distinct advantage and often can mean your repairs will take less time to perform correctly. The dealer's service shop is maintaining a higher quality cleanliness standard, too, as part of the manufacturer's commitment to provide the best customer service.
Trust
Let Greenway Dodge earn your trust with the best service, parts and facility to take care of your vehicle. No one knows your vehicle better. Contact the dealership to learn more about service specials and warranties.