Adventure Awaits With The New 2022 Jeep Compass
Off-roading enthusiasts will be thrilled with the new, 2022 Jeep Compass that is taking over by storm. This is the perfect SUV for adventure, with its high maneuverability, ability to trek through puddles and rocks, and virtually any other condition you can think of that might pose an obstacle outdoors. The 2022 Jeep Compass overcomes them all. Interested in getting one? You can contact Greenway Chrysler, Jeep, Dodge & Ram in Orlando, FL, to see for yourself just how powerful this vehicle is, and how it's your only companion for the outdoors.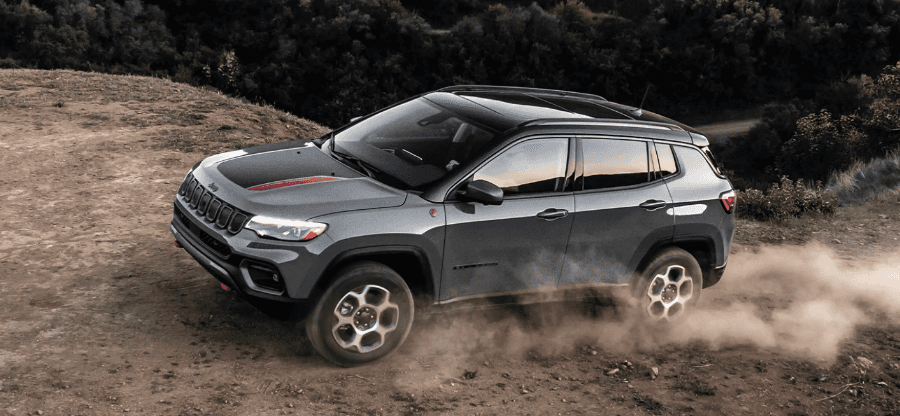 Made for Adventurers
The 2022 Jeep Compass is the perfect crossover between its bigger sibling, the Cherokee, and its smaller Renegade counterpart. This is the perfect vehicle that delivers value, power, and functionality in a great package. The 2022 Compass is equipped to handle the road through impressive specs. These include:
2.4 liter V4 engine
6-speed automatic transmission
177 horsepower
172 lb-ft of torque
25 combined mpg
4 x 4 all wheel drive
All of these features are standard on the impressive 2022 Jeep Compass base trim, and they can be upgraded to impressive off-roading capabilities made for any adventurer. This includes 4 modes of driving which can help you get past snow, rocks, sand and mud, and automatic driving mode for cruising down the city streets.
Outfitted for Any Condition
The 2022 Jeep Compass is one of the best vehicles to take with you on your next camping trip. You can opt for the Trailhawk trim, to include a wide range of camping-ready gear, including:
A factory added inch of clearance for a total 8.6 inches of ground clearance to help you get through any rock crawls
Water fording capabilities up to 19 inches so you can pass through puddles with ease
High-strength steel skid plates on the undercarriage
Iconic red front and rear tow hooks that can two up to 2,000 lbs of gear
17-inch aluminum wheels with all-performance tires
Hill descent control so you can stay in control even in steep conditions
As if these features weren't enough, there are also loads of convenient features on the 2022 Jeep Compass that are sure to delight any driver during even the most simple commutes. These include automatic rain-sensing wipers that work their magic without you lifting a finger. Heated exterior mirrors and a windshield de-icer are also one of the best add-ons for drivers in the cooler areas of the United States, or if you plan on taking a trip to the snow.
Safety and Comfort Never Too Far Behind
The 2022 Compass has made sure to not leave safety or comfort behind, never one to compromise. It boasts a wide range of safety and interior comfort features to make any family trip fun and relaxing, including:
Heated front and rear seats
Heated steering wheel
59.8 cubic feet of interior room
Dual zone front air conditioning
Automated emergency braking
Adaptive cruise control
Lane-keeping assist
6-speaker audio system
Standard blind spot monitoring with rear cross path detection
High strength steel body to protect against crashes
These are just some of the many safety and interior comfort features that make the 2022 Jeep Compass the perfect care for everyday commuting and everyday comfort! With enough space for up to 17 suitcases to fit in here, it's also the perfect car for chauffeuring friends and family around the city during their vacation stays!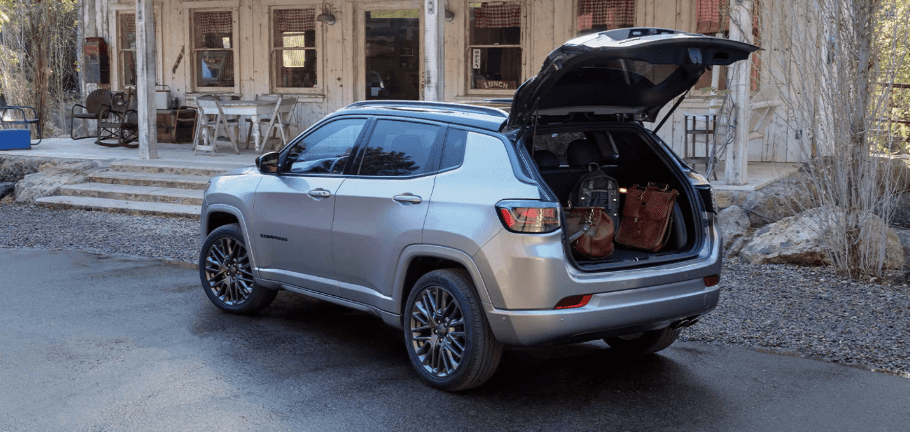 Jeeps are known for the iconic box exteriors. The 2022 Jeep Compass is no different, boasting a redesigned exterior complete with restyled LED headlamps and fog headlamps, the iconic "Jeep" logo, and the badge of honor with 7 grille-front design!
Find the Perfect 2022 Jeep Compass For Your Next Adventure
At Greenway Chrysler, Dodge, Jeep, and Ram, we're on a mission to get you paired with the next vehicle for your adventure. Find your next 2022 Jeep Compass here to help you cruise through the Orlando, FL streets in style, or explore our many other SUV options today! We'll be here to get you set up with the best new and used inventory, so you can find something that's in your budget, safe, and stylish for your next adventure!